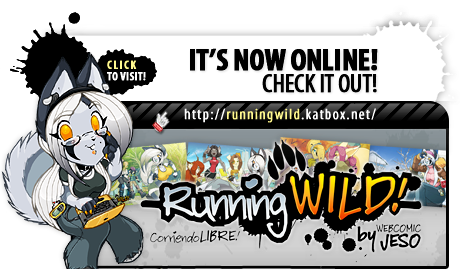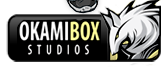 </b>
COMMISSION ME! | Furaffinity | VCL | Sketch Blog | My Music | YouTube | Side7 | Myspace | Lego | #okamiboxstudios |
-------
</sup>

ENGLISH
~

CLICK the Banners on Top for more INFO!
- -Hey Guys! It's Official ~ RUNNING WILD! my webcomic
It's NOW LIVE - Check it out, here, at Katbox! ->
[link]
Updated on Fridays!
...Same Site that brings You "Las Lindas", "The Eye of Ramalach" and "Caribbean Blue", great friends, great artists, awesome community~ Fantastic place to be~! So be sure to take your time to visit and peek around! ;D
- - I'm really excited about this! I've been trying for quite a time in bringing all these pieces together, and finally, the day has come. I'm glad to present al of you guys, one of my personal art projects and a real milestone in my artistic life.
- - Thanks to all of you guys for you support! WINTERFEST 2009 was a real success! it was a really hard weekend, but it was worth it nonetheless. In fact~ I came back from it for just a couples of hours ago~ being a organizer and artist at the same time, it's actually, NOT easy! *_* nope... :3 but it was awesome meeting up with a lot of my friends from far~ and of course, hanging out with my friends here at the local~ you guy's are the best!
"Hope you guys like the Comic!
I'll try my best to give something
really worthwhile~!

Thanks for Visiting!
-JESO-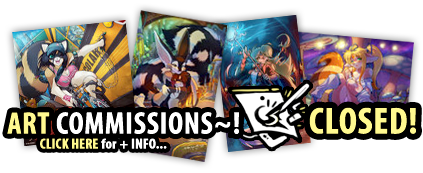 -------
</sup>

ESPAÑOL
~

HAZ CLIC en los Banners para mas INFORMACION!
- -Hey Chicos! Es Oficial ~ RUNNING WILD! mi webcomic
COMENZO JUSTAMENT HOY. Aqui, por Katbox! ->
[link]
Actualizado todos los Viernes!
...El mismo sitio que te trae "Las Lindas", El Ojo de Ramalach" y "Caribbean Blue", gran amigos, Artista talentosos, Una comunidad increible~ y un lugar sinceramente fantastico en donde estar! Asi que asegurante de visitar y mirujear un rato! ;D
- - Estoy muy Emocionado con todo esto! Eh estando tratando de armar de poco en poco todo, y finalmente, el dia de comenzar a llegado. EStoy muy contento de presentarles a todos, uno de los proyectos personales que han marcado mi vida como Artista del medio.
- - Gracias a todos los que me apoyaron en el WINTERFEST 2009, fue todo un exito!
y enserio fue muchisimo trabajo este fin de semana, pero sin entrar en detalles~ fue increible! de hecho~ jaja, acabo de llegar de la convencion hace un rato. Ser expositor y Organizador no es nada Facil! *__* nop, para nada... :3 Pero fuera de eso estuvo increible porder ver y platicar con mis amigos de fuera, asi como tambien de mis amigos de por aca~ Chicos! ud's son de lo mejor!
"Espero les guste el comic,
Voy a siempre dar lo mejor de mi para
hacer que esto valga la pena~!




Gracias por Visitar!
-JESO-