COMMISSION ME! | Furaffinity | Tumblr | Twitter | VCL | Sketch Blog | My Music | YouTube | Side7 | Myspace | Lego | okamiboxstudios |
-------

ESPAÑOL
~

HAZ CLIC en los ICONOS para mas INFORMACION!
- SCROLL DOWN for ENGLISH -



...
WINTER FEST 2011 ->fusion-anime.phpbbforo.com/
Chihuahua, CHIH -- 11,12 y 13 de Noviembre -- Club de Leones --
Dentro de unos cuantos dias estaremos celebrando la 4ta edicion de Winter aqui en mi ciudad natal y Ofrecere
NUEVOS PRINTS Y POSTERS en mi STAND
para esta ocasion! C; ... Nos a tomado bastante tiempo y esfuerzo a todos mis compañeros y amigos de Fusion Anime para llegar en pie con este evento y para celebrar vamos a va tener a
7 Invitados Especiales
de Doblaje, Cosplay, Videojuegos y Artistas de Comic, habra Concursos y muchas Actividades, Haz CLICK en el POSTER de arriba para saber mas!...

... A su Vez Tendremos el
WINTER EXPO 2011 ->fav.me/d48hgrl
Galeria de Arte Tematico Original
-
- Dentro del Club de Leones / Pasillo Interior --
Contaremos con mas
40 Obras Originales
con la tematica de esta ocasion
La Epoca Victoriana
y entre las obras se mostrara
10 Obras de Portafolio
de nuesto buen amigo y famosos artista local
elsevilla
.... Que estara presente en el
Area de Artistas
; apadrinara la exposicion y a su vez dara una
Taller Unico
de "Color Digital, Corel Painter 12" de / 3:00 a 5:00 pm el Sabado / Asi que los invitamos a darse una vuelta!

... Estaremos acompañandos de un buena porcion de amigos y compañeros artistas de fuera de la ciudad, ( La neta ya los extrañaba! que bueno que se podran hechar la vuelta! ) *u* - A tirar el Coto sea dicho! /
En mi MESA
estara presente mis buenos amigos y broders del alma
avencri
y
digiaurelius
y dentro del
AREA DE ARTISTAS
podran encontrar a la banda Regiomontana, Defeña y Duranguense:
chutkat
Greki
Gado
Silver-Ray
ZoeyHuerta
Lord-Brocoli
Tozani
Sagita-D
pochis
... Asi como muchos mas // Y como de costumbre estare dibujando para los asistentes y ofreciendo
NUEVOS PRINTS Y POSTERS
de RUNNING WILD! asi como algunas otras cosillas mas... ~ Asi que VISITENOS!!





















RUNNING WILD!
Mercancia y Productos Coleccionables:
Buscalos en CONVENCIONES! ->
fav.me/d2sujbd

NUEVOS PRINTS Y POSTERS!
Disponibles en Convenciones!
-------

GRACIAS POR SU ATENCION
" Los estare viendo dentro de poco! "
-JESO-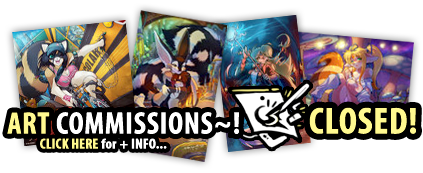 -------

ENGLISH
~

CLICK the Banners on Top for more INFO!



WINTER FEST 2011 ->fusion-anime.phpbbforo.com/
Chihuahua, CHIH -- 11, 12 and 13 of November -- Club de Leones --
Within a few days we´ll be having our next edition of the Winter Fest here at my hometown, We´ll be having tons of
Special Guests
, and I´d gladly like to mention one of the locals, great friends and master artist
elsevilla
.... He´ll be at
Artist Alley
; offering a digital panting course and being our special guest at the Thematic Gallery of Manga and Comic
Winter Expo 2011
It´s been a hard for us as a group (Fusion Anime) to get round to get the event up and running, but we proudly stand up and hopefully deliver a great show. And Not to mention, I´ve been dying to meet up with tons of old friends and peeps. This could be the last convention in the year, I hope for the bests.

RUNNING WILD!
Merchendaise and Collectives, get them
only at convetions ->
fav.me/d2sujbd

COMMISSIONS STATUS!
Still on Batch 3 / 1 Done, 3 More´d Go!
Hang on in there guys! it´s been hectic lately,
gladly I can get over to work just after Winter Fest
is over... = - =

THANKS FOR YOUR ATTENTION!
" I´ll be seeing you guys soon! "
-JESO-